Plastic Solenoid Valve For RO System With Flow Limit & 1/4" Quick Connection Inlet/Outlet Port
Plastic material of the valve body: polypropylene.
Working pressure: 0 ~ 0.8MPa(0 ~ 116psi).
Max water pressure: >2.5MPa(362psi).
Connection type: 1/4" quick connection inlet/outlet port.
Voltage: DC12V, DC24V, DC29V, DC36V, DC48V, AC110V, AC220V are available for option.
Input power: 4.8W(DC24V/190mA).
The capillary of the flow limit is made of SS304 stainless steel.
Available flow rate of the flow limit: 100cc, 200cc, 300cc, 400cc, 500cc, 600cc, 800cc, 1100cc, 1500cc, 1800cc.
Improvement of Quick Connection: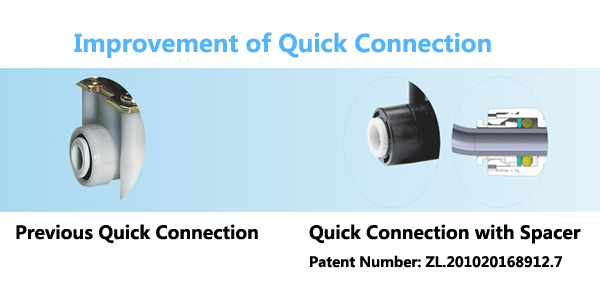 More leakproof and convenient to pushing in!